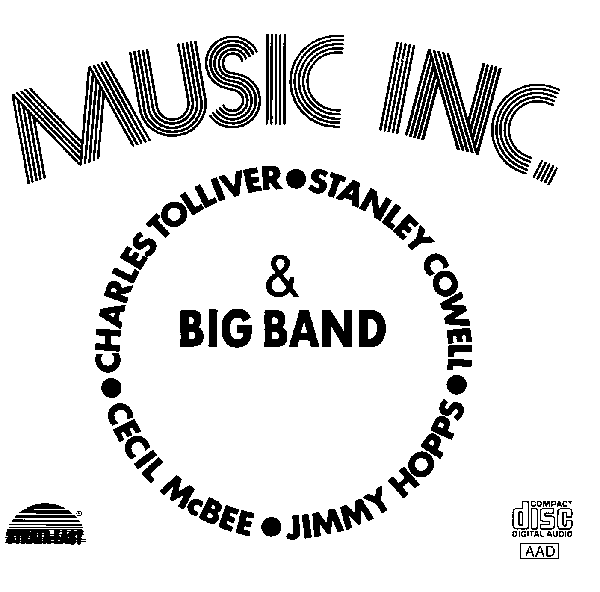 Music Inc. for Strata East from 1971.
First posted at O.I.R. September 2006.
CHARLES TOLLIVER-TRUMPET;CECIL McBEE-BASS;STANLEY COWELL-PIANO;JIMMY HOPPS-DRUMS
Reeds and Flutes:JIMMY HEATH CLIFFORD JORDAN BOBBY BROWN WILBUR BROWN
Trumpets:RICHARD WILLIAMS VIRGIL JONES LARRY GREENWICH DANNY MOORE
Trombones:GARNETT BROWN CURTIS FULLER JOHN GORDON DICK GRIFFIN
Tuba and Baritone Sax:HOWARD JOHNSON
This was the first release from Strata-EastRecords, the label created in 1971 by Music Inc.'s co-leaders, Charles Tolliver and Stanley Cowell. For the debut, the two lead an advanced, hard bop session of their own compositions arranged for a quartet augmented by a 13-member brass and wind orchestra. The writing has an affinity with McCoy Tyner's modal hard bop from this same period, e.g Tyner's Extensions (Blue Note). Similarly, Cowell's playing shares with Tyner's a powerful technique, effective use of rippling two-handed arpeggios, and an ability to make its presence felt in a large group. Jimmy Hopps (drums) and Cecil McBee (bass) round out the core quartet. Hopps' blend of muscular drive and nuance is akin to Louis Hayes or Freddie Waits. McBee's technical command and slabs of fat, earthy tone are captured wonderfully. The orchestra includes trumpeters Richard Williams and Virgil Jones, reed players Jimmy Heath and Clifford Jordan, and trombonists Garnett Brown and Curtis Fuller. The music moves seamlessly from trio and quartet configurations to full orchestration. The centerpiece is Tolliver's "On the Nile," which evokes a majestic procession of ancient Egyptian nobility sailing the broad Nile, the blue and silver waters sprayed with sunlight. Like one of the pharoah's prized falcons, the pure tone of Tolliver's flugel horn soars overhead buoyed by the orchestra's rich chords. Cowell's "Brilliant Corners" is equal to "On the Nile" in elegance and class, while his "Departure" and "Abscretions" are in a more funky vein. Tolliver's "Ruthie's Heart" alternates stripped-down statements from the quartet with sections of full on punch from the horns. His "Household of Saud" is the most purely hard bop of the six tracks. As the launch release for a new label, this was a bold debut. Tolliver and Cowell were presenting vital new pieces that had a direct lineage with the large-scale works of Ellington, Monk, and Mingus.
Ripped @320 from German Bellaphon cd reissue-now deleted.